The Copper Flat Mine - Site Tour Summary
Posted: 10/12/2012 | Posted By: News Resource/Publisher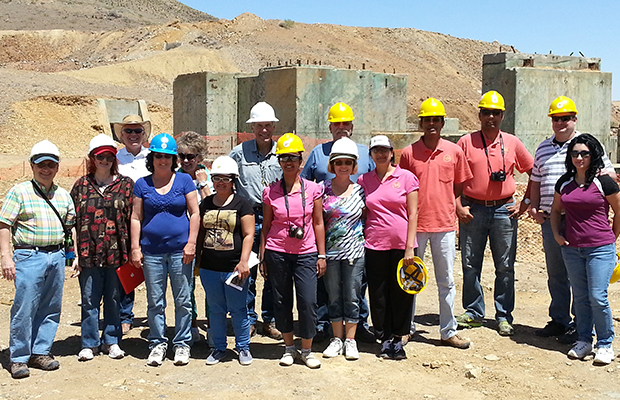 ​During the summer months, we hosted a series of tours, and we want to express our gratitude that so many people in the community took time out of their day to visit us at the Copper Flat Mine.
Our hope in inviting communities to visit the Copper Flat Mine Project was to get more people in Sierra County acquainted with the site. We were thrilled to have so many of you from the community attend; we enjoyed show- ing you around the site, answering your questions, and discussing the topics of interest and concern over several beautiful days. Understandably, the main concern of many visitors was water supply and water quantity.
Our planned fall 2012 aquifer test will collect additional data needed to better understand the aquifer characteristics. This test will last up to 16 days and pump an expected 150 acre-feet of water. We have explained that – if it is shown in the future that Copper Flat's operations negatively impact somebody's well – we are committed, as a company, to do what it takes to make it right. Besides water quantity, many attendees also asked about water quality. During the tour, we talked about how our water sampling so far has shown some minerals in the pit area to be in excess
.
Many of our site tour visitors were interested in employment at Copper Flat, and asked when we would be hiring. Pending permit- ting progress, production is anticipated in late 2014 to early 2015, and we will likely begin hiring around mid- to late-2014. We estimate between 250 and 265 jobs
at Copper Flat, ranging from administrative to labor to engineering. We will also require the contractor we choose for mine construction to make every effort to recruit locally for appropriate positions.
We are committed to continue providing updates and news to Sierra County, along with opportunities to get involved, as we continue the permitting process and pre- pare for construction. Please kee an eye out in the newspapers, as we continue to host Copper Flat site tours in the future.
André Douchane

Chief Executive Officer

THEMAC Resources

www.themacresourcesgroup.com
Learn more about the Copper Flat Mine at
 www.themacresourcesgroup.com 
Or call Zack Gorstein, Project & Sustainability Analyst at
 505-234-6285