Village of Williamsburg County of Sierra Resolution # 08 – 2012/2013
Posted: 09/13/2012 | Posted By: News Resource/Publisher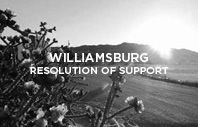 A RESOLUTION SUPPORTING THE COPPER FLAT MINE AS GENERATOR OF JOBS WITHIN THE CONFINES OF SIERRA COUNTY:
WHEREAS, the New Mexico Copper Corporation is proposing to establish the Copper Flat Mine to recover copper,
molybdenum, gold, and silver in Sierra County, and
WHEREAS, it is the desire of the Village of Williamsburg to encourage economic development in the area that
benefits job creation, and,
WHEREAS, the Village of Williamsburg is in favor of industries that provide jobs which pay competitive
wages to keep our younger generation in the community; and,
WHEREAS, these potential jobs will have a multiplier effect on the community's economy allowing other
industries to thrive including restaurants, lodging, groceries, fuel, real estate, construction and businesses that provide goods and services; and,
WHEREAS, a healthy and sustainable economy improves the quality of life for all residents in the Village
of Williamsburg; and,
WHEREAS, it is the desire of the Village of Williamsburg to welcome and support businesses to locate near the
city and employ local citizens while also demonstrating environmental stewardship with copper and other natural resources production.
NOW THEREFORE, BE IT RESOLVED that the Village of Williamsburg urges and encourages the granting of state and
federal permits needed to facilitate the operation of Copper Flat Mine in the County.
PASSED, ADOPTED AND APPROVED THIS 13th day of September, 2012.