THEMAC ANNOUNCES DEBT ASSIGNMENT
Posted: 07/04/2017 | Posted By: News Resource/Publisher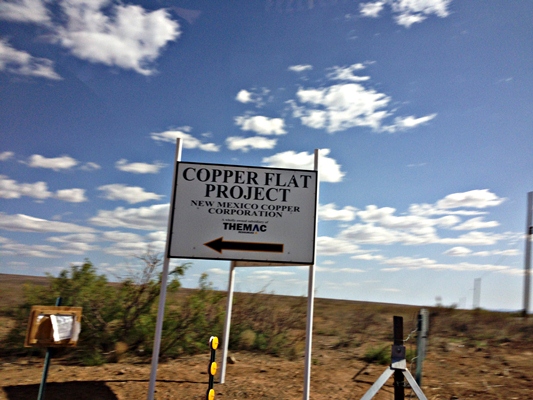 ​VANCOUVER, BRITISH COLUMBIA—(July 4, 2017) - THEMAC Resources Group Limited (TSX VENTURE:MAC) ("THEMAC" or the "Company") announces that it has assigned to its wholly owned subsidiary, New Mexico Copper Corporation ("NMCC") a loan agreement dated February 28, 2011, as amended (the "Loan") between the Company and the Company's controlling shareholder, Tulla Resources Group Pty Ltd. ("Tulla"). The Loan is payable upon demand, is unsecured, and bears interest at 20% per annum. At the time of assignment, the amount outstanding on the Loan consists of the principal amount of CAD$43,770,000 and CAD$34,690,000 in accrued
interest. The assignment was agreed to by Tulla.
The Company assigned the debt to its subsidiary in order to better reflect the ongoing business arrangements of the Company and NMCC, and the ongoing funding requirements of NMCC. The assignment is not expected to affect the Company's business operations. The Company has provided a guarantee of the repayment of the Loan.
Tulla is the controlling shareholder of the Corporation. Tulla is controlled by Kevin Maloney, a member of the Board of Directors. Andrew Maloney, the CEO of the Company, has interests through a parent entity of Tulla. The assignment of the Loan will not affect the percentage of securities of the Company controlled by Tulla or is associates. The Loan assignment was approved by the independent directors of the Company. The transaction was completed immediately following board approval, in order to facilitate reporting requirements, and less than 21 days after filing of the material change report in respect of the transaction.
The Company treated the assignment of the Loan as a related party transaction. The Company is subject to TSX Venture Exchange Policy 5.9, which incorporates Multilateral Instrument 61-101 – Protection of Minority Security Holders in Special Transactions ("MI 61-101"). The Company is relying on the exemption from the minority shareholder approval requirements provided for under Section 5.7(f) of MI 61-101 for loans made on commercially reasonable terms that are not convertible or repayable in equity or voting securities of the Company.
About THEMAC Resources Group Limited
THEMAC is a copper development company with a strong management team and as of May 18, 2011, a 100% ownership interest in the Copper Flat copper-molybdenum-gold-silver project in New Mexico, USA. We are continuing to advance the closed copper mine, Copper Flat, in Sierra County, New Mexico, toward production with innovation and a sustainable approach to mining development and production, local economic opportunities, and the best reclamation practices for our unique environment. The Company is listed on the TSX Venture Exchange (ticker: MAC) and has issued share capital of 79,400,122 common shares (fully diluted share capital 88,977,316).
For more information please visit www.themacresourcesgroup.com or review the Company's filings on SEDAR (www.sedar.com).
For further information contact:
THEMAC Resources Group Limited
Andrew Maloney
Chief Executive Officer
Phone: +1 505.382.5770
www.themacresourcesgroup.com