THEMAC ANNOUCES BOARD OF DIRECTOR CHANGES
Posted: 12/07/2016 | Posted By: News Resource/Publisher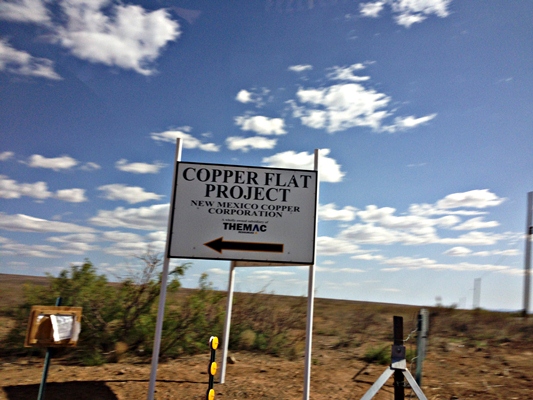 ​VANCOUVER, BRITISH COLUMBIA—(December 7, 2016) - THEMAC Resources Group Limited (TSX VENTURE:MAC) ("THEMAC" or the "Company") announces the departure of Mr. Kenneth Pickering from the Board of Directors.
Andrew Maloney, CEO, stated "Ken Pickering has contributed substantially to the advancement and development of the Copper Flat Project. The Board expresses its gratitude and appreciation for the knowledge and experience Ken has provided to THEMAC during his tenure. We wish him the best in his future endeavours."
Ms. Deborah Peacock has been appointed to the Board of Directors of THEMAC. Ms. Peacock was appointed to the Board of Directors of New Mexico Copper Corporation, THEMAC's wholly-owned subsidiary, in 2014.
Ms. Peacock is the current President/CEO and Managing Partner at Peacock Myers, P.C., the largest intellectual property firm in New Mexico. She is a Registered Patent Attorney, licensed in New Mexico, New York, and Colorado; and a Registered Professional Engineer (PE) in New Mexico and Colorado. Before graduating from Harvard
Law School, Peacock worked as a Metallurgical Engineer with Kennecott Copper Utah Division and previously at a cassiterite mine/mill in Tasmania, Australia. Peacock represents natural resources companies worldwide, regarding leading edge technologies, business, and intellectual property strategies.

Andrew Maloney, CEO, also stated "Deborah Peacock has been an incredible asset to the Board as it works through the permitting and regulatory process in New Mexico. The Board of Directors looks forward to her continued involvement with THEMAC."
About THEMAC Resources Group Limited
THEMAC is a copper development company with a strong management team and as of May 18, 2011, a 100% ownership interest in the Copper Flat copper-molybdenum-gold-silver project in New Mexico, USA. We are continuing to advance the closed copper mine, Copper Flat, in Sierra County, New Mexico toward production with innovation and a sustainable approach to mining development and production, local economic opportunities, and the best reclamation practices for our unique environment. The Company is listed on the TSX Venture Exchange (ticker: MAC) and has issued share capital of 79,400,122 common shares (fully diluted share capital 89,252,316).
For more information please visit www.themacresourcesgroup.com or review the Company's filings on SEDAR (www.sedar.com).
For further information contact:
THEMAC Resources Group Limited
Andrew Maloney
Chief Executive Officer
Phone: +1 505.382.5770
www.themacresourcesgroup.com